When it comes to dressing for work, the goal should be to look cool yet polished. You want to look like a guy who knows how to make good decisions. And understanding what looks good on you is a simple way to communicate that. But it's not always easy—day after day, week after week.
What's more, workplace wardrobes have shifted rapidly over the past few years. Look around and you'll notice that everyone and everything is more casual. So how do you look put together without looking, you know, too put together? The key is dressing up the casual pieces you know and love and mixing them in with dressier classics. You'll want to strategize. Shop with intention and look for colors and textures that make basic items appear more interesting. Because you don't want to blend in at work. You want to stand apart.
The Grown-Up Polo
Knit and textured styles give a more refined look to this classic prep staple. Collar details and buttonless plackets add instant intrigue.
Peruvian cotton polo,
$95 by Theory
The Elevated T-Shirt
Whether donned by itself or worn more discreetly under a jacket or over-shirt, these T-shirts (cut from more substantial and textured fabrics) are a few steps ahead of your standard plain tees.
Textured knit tee,
$35.90 by Zara
The Camp
Collar Shirt
Cooler and more relaxed than a standard short sleeve button-down, the distinguishing feature is the absence of a top button—requiring it to be worn casually open at the collar.
Relaxed resort shirt,
$9.99 by H&M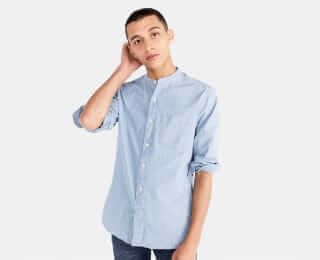 The Denim Shirt
It's rough and tough, but still nice enough to wear with a sport coat or a proper pair of trousers. Choose between band collar, classic western or workwear-influenced styles.
Band collar stretch shirt,
$75 / $49.99 by J.Crew
Sign of the Times
Banking giant J.P. Morgan Chase & Co. now lets workers wear business-casual clothing most of the time instead of the once standard suits.